The Dallas chapter of Stewards of the Wild raised more than $27,000 for Gear Up for Game Wardens at a special event in late January. About 200 people attended the fifth annual "State of Conservation" event, which was held at the Dallas Country Club.
WFAA meteorologist and avid outdoorsman Pete Delkus moderated a panel discussion with several North Texas game wardens, who regaled the crowd with stories about their adventures in conservation law enforcement. The audience learned about the many different roles that Texas Game Wardens play, from enforcing game and fish laws to responding to natural disasters like hurricanes, tornadoes and flooding events. They also learned about the specialty gear that Texas Game Wardens need to do their job and how Gear Up for Game Wardens is outfitting Texas Game Wardens across the state.
Gear Up for Game Wardens is a Texas Parks and Wildlife Foundation (TPWF) program that provides specialty equipment Texas Game Wardens need to maintain safety and ensure the highest level of service for the people of Texas. While the state provides the basic necessities for game wardens to do their jobs, there is still a critical need for additional equipment.
The more than $27,000 raised will be spent in the North Texas region to purchase critically needed night vision equipment and a handheld thermal unit. The thermal unit helps Texas Game Wardens narrow down the location of a missing person by identifying a heat signature, and the night vision equipment allows them to carry out searches in the dead of night.
Stewards of the Wild Dallas chapter co-chairs Raymond Morrow and Chris Landers helped organize the event, and this is the first time the proceeds from the "State of Conservation" event have been donated to Gear Up. Stewards of the Wild is TPWF's young professionals organization with chapters scattered across the state. The idea for Stewards of the Wild originated in Dallas, and the Dallas chapter led the way for other chapters to be established.
"We are grateful for the generous donations made by the Dallas Stewards," said Austin Taylor, TPWF's Gear Up for Game Wardens program manager. "These funds will be deployed immediately to provide the specialty gear North Texas game wardens need to be more effective in the field."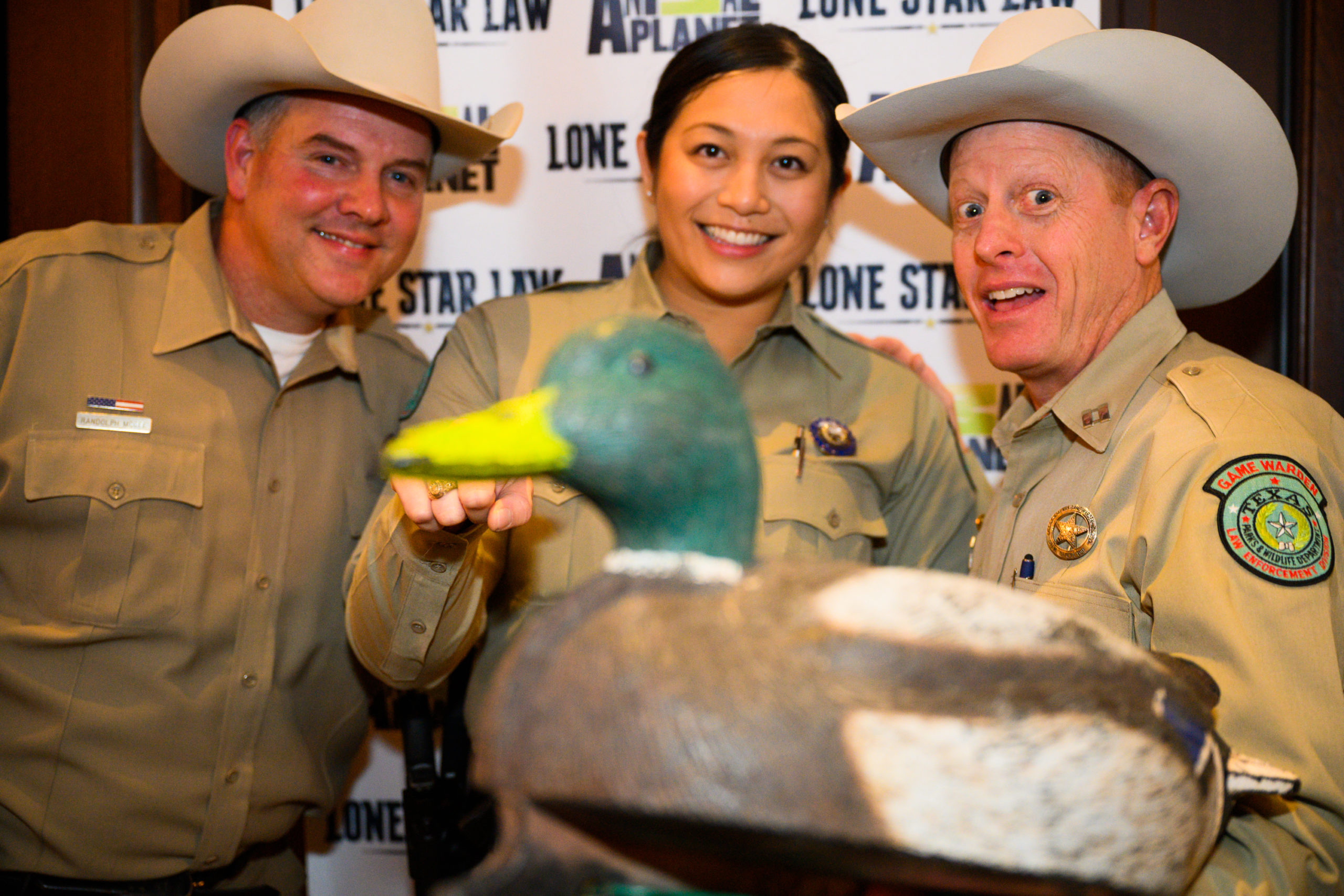 While the mission of the evening was serious, several of the game wardens seem to have a second calling in comedy. Captain Steve Stapleton had the crowd in stitches as he worked the room, a duck decoy on a line behind him.
"We had to arrest this little guy," Stapleton deadpanned. "We caught him with quack!"
Local events like this one are key to Gear Up for Game Wardens success. More than $1.2 million have been raised across the state since the program launched in October 2017. There are several upcoming events, including one in Lubbock on April 23 and in an Angelo on June 6.